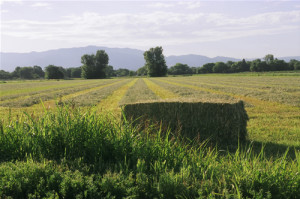 Santa came early this year and brought us a new farm. I cannot wait to share this news with you all. So grab a cup of tea or a glass of wine and sit back.
As you know, we have been looking for new land prospects for the past couple of years. I have thrown ideas out that did not have the sticking power, but finally, we have found a match. Beginning in January we will be expanding our operation onto 12 new acres at the Los Poblanos Open Space off of Montano near the river. Here are the details…
We will NOT be moving from our current home base in the South Valley. We continue to add infrastructure and energy into the farm there and that will continue. This new land will be an expansion to bring more local food and agricultural eduction to our community. With this addition, our "Back 40" has become 52 acres.
Who's land is it? The land is owned by the people of ABQ. The City purchased the 138 acres of open space in 1997. It is and has been home to Rio Grande Community Farm and Scott Rasband's hay fields since 1997. We are honored to join such a great team of growers.
Personally, this new land will be a full circle journey for this New Mexican kid. The open space is bordered on the north side by my elementary school, Alvarado. To the west is the historic (and epic) Los Poblanos Ranch where we started the farm in 2003. So to bring our farm back into the North Valley fields, where I played as a kiddo, is very nostalgic for me. And it feels good to be back.
It is hard to put the potential of this land into perspective. 138 acres less than 10 minutes from downtown. I would challenge you to show me one city in our nation that has made such an investment into its agricultural traditions. I cannot give you one example. So I have to give a big thank you to the City of ABQ for making this a possibility not only for our farm but for our community. This is huge opportunity folks and we hope to make it a flagship agricultural area for our town, state, and region.
You might be asking yourself the question of how this expansion will affect your farm?
Let's start with visitors. Our South Valley farm is phenomenal and as close as it is to ABQ, (just 12 minutes south of the Big I) we have challenges getting folks down there. I think there is a perception that it is just too far away. So when we were looking for the perfect expansion opportunity, proximity within the city was huge. I really see the Los Poblanos Open Space as The Hub for the city. It is the gateway that ties ABQ together with Los Ranchos and the Westside. Unique in that all three distinct areas of ABQ come together and border each other at the farm.
So our goal is simple, bring people closer to their food. This goal of the farm is a shared goal of the City of ABQ. We both realize that great things happen when the community engages with their food.
With this, we believe that it is time to make a stand…well actually we are going to make a Farm Stand. This Stand will be very interactive and combine a major U-Pick component that we just do not have in the city right now. Secondly, this Stand will be equipped to educate customers on the benefits of local agriculture and CSA farms. We plan to operate a retail market as well as have CSA pick-ups.
Ultimately the vision is about you. Too often I have seen farms turn into entertainment centers and lose sight of their roots. So we will not have train rides or inflatable jump castles for your kids. What we are going to build is an authentic agricultural experience to bring you closer to your food in a convenient location. We will house animals there and host animal husbandry classes for you. We will sell tomatoes but also teach you how to grow tomatoes in your garden. Grow okra for you to harvest but also hold cooking classes to show you how to cook the little dudes.
I look forward to hosting an Open House (or Farm) with you all as soon as we get it all cleaned up and ready for our members. Thank you for your support.
Farmer Monte