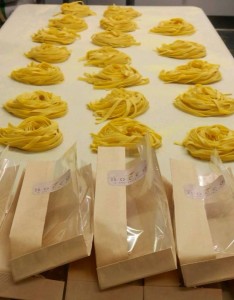 First off this week, what an amazing abundance of fresh flavors this week. I am surrounded by yummy foods everyday and still there are times (like this week) when I am in awe of the flavors of the season. Truly a great celebration for the 4th of July. I wish you all a safe holiday.
Secondly, a new product offering that I am really excited about, fresh pasta. I know very few people who subsist on straight veggies. Most of us need something to go along with our pile of veggies. Last year we introduced the pizza dough. Huge hit. Kids and grown ups alike go crazy for high quality pizzas made at home. So this year we want to build on that with a fresh pasta that cooks in 3 minutes.
Fortunately, in our search to bring you the best food, we met Alanna Casale, who was in the midst of launching a new pasta company, ñocco. She is now in production and we are happy to offer them to you. I encourage you to try some out. Check the web site for more info and to order.
Now on to some long term vision planning that we have been having around the farm trying to answer the question of what will our/your farm look like in 5 to 10 years? We have worked like heck to be a presence in the local food scene over the last 12 years, now the time has come to really fine-tune the work we do. Be laser focused with all of our energies instead attacking the world like a blindfolded dude in a pinata shop after a 6-pack.
And no good vision quest for the future would be meaningful if we did not take an honest assessment of where we are now and how we got here. And the key word being honest. Sure we have to acknowledge our triumphs and what is working well for the farm. But we also have to ask ourselves what mistakes we made or continue to make currently. Without both sides of this coin, planning for the future is a pointless endeavor. Honesty must lead the way.
Looking at our list of the Good and the Bad/Ugly, the good looks great. We grow really amazing food. Take care of the earth that our community calls home. Are water efficient farmers. Raise healthy happy animals. And have the most dedicated group of farmers and employees that you could find anywhere. Furthermore, we are able to do all of that while making money and not being a burden through grants or the non-profit world. Which is no easy feat.
Now to the list of Bad/Ugly. The list has just one word in it, LAND. Let me explain here. In 2008, the farm was not even in kindergarten yet and had seen just huge growth in the demand for local food over our first 4 years. We had already outgrown our land in the North Valley and had outgrown a greenhouse nursery complex we bought off Edith. In all honesty, I was freaked out that the demand for our food was growing faster than our ability to keep up. So under that pressure, we bought our South Valley farm of 16 acres. We finally had space to grow and room to breathe. I was a happy camper.
Fast forward to today. We need a lot more space than 16 acres to keep food on your plate, but I am realizing that we do not have to own the dirt. We have so many options and opportunities to farm throughout the valley, that I have realized that owning the farm is just not necessary. Not only is it not necessary, but it is an expense that we just do not need. Owning land is risky and expensive. Leasing land is flexible and cheap.
So I have made the decision to put the farm land up for sale in order to put our money into farmers and not the land. Finding land is easy, finding great growers is hard. We will have more resources to put towards building a better team.
I want to let you all know about this move first because I don't want any rumors going around that we are shutting down the farm, we most definitely are not. We are expanding the farm. And I also ask your help if you know anyone who is looking for land in the South Valley for a home, a farm, horses or whatever. Please let me know if you have any questions or concerns.
Happy 4th,
Farmer Monte