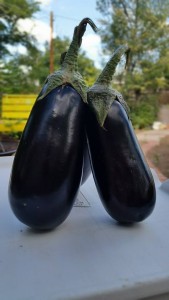 Oh I love this time of year. For most of us, we like to think that the summer time is when the real abundance of fresh foods are around. But I have to tell you that is just not the case. The sweet spot for fresh produce and meats is the fall.
Why? Because the fall is like the little love child if summer and spring got together and had a baby. I know it is hard to imagine two seasons mating and having a baby, but stay with me here. The weather is still warm enough for yummy summer veggies, but it has cooled just enough to get greens and roots back in the mix that we haven't seen since May.
So the diversity and quality of the produce this time of year is second to none if you ask me. Additionally, we will be processing animals that have spent the entire summer dining on sweet grasses and greens. So this time of year really has something for everyone to celebrate and enjoy.
Some notes on new partnerships. We have added a baby greens grower, Jayleaf, to the mix. They are a great family-owned Organic grower from California. I have not seen a grower with better quality and diversity than Jayleaf. We are happy to have them on board with us and will offer our members (you) a consistent supply of greens throughout the year. This will fill a much needed void in our offering.
With their help, I want to launch a new part of the Harvest Boxes, the Green of the Week. This will be a rotating green ranging from salad mixes to baby chard and kales to help introduce different greens that you may have not seen or tried. We will start with baby spinach this week, which I know is nothing super exotic but just a solid way to kick off the new partnership. So look for more baby green options in the Harvest Boxes moving forward.
Green chile notes. The chile will continue to produce for a little while longer, but again, stock up now if you want some in your freezer. Once the fresh roasted is gone, we will not have it until next August or September. Although I do have to say that our green chile sauces will help get me through the winter too.
Grass-fed beef. I have received many emails, texts, and sticky notes about people wanting grass-fed beef. The idea is pretty simple folks, cows are meant to be raised on grass, so why not let the cows live how they were meant to live? Seems fair enough. The issue that I have run into personally and know that others have too, is that when we think of grass-fed beef, we think of chewing on the soles of our shoes. Tough as nails.
I saw this misperception as a challenge. How do we change folks' minds about this grass-fed myth? Simple, find the ranchers who are raising the best animals in the best ways. And I am happy to say that we have found 2 partner ranchers who I know will change the way you think of grass-fed beef. And while you are enjoying the beef, you will be eating more Omega-3s, less saturated fats, and supporting ranches that are the antithesis to the feed lot. Animals roaming free on pasture and grasses for their entire lives. No cutting corners ever.
Nancy Ranney heads the Ranney Ranch in Corona, New Mexico. The family has been running the ranch since the late 1960s. One of the most impressive things that I saw out there was the abundance and diversity of the grasses. Nancy told me that through their use of rotational grazing practices that species of grasses have returned that agricultural extension agents have not seen growing there.
It seems crazy but the managed ranch is actually healthier than the prairies around the ranch. Why? Because cows actually are really good at eating seeds and then walking around and spreading the seeds in their manure. So in and through their poop, the help sow the grasses that they will be eating in the future. Amazing. And this only can happen when you do not overgraze an area.
We will have full and partial animals for sale if you would like to stock up your freezer.Shoot me an email at  for more info or details. We will have these animals ready for you by mid-October.
Farmer Monte