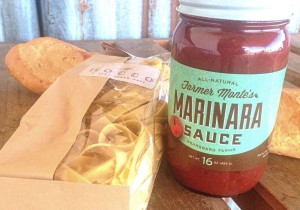 What a few weeks we have been having here folks. Gorgeous weather, nice harvests, and tons of exciting new things. By now I hope you have all tried the amazing new bread options. It most definitely has filled a void for us. And every time we launch a cool new thing, we get flooded with emails, calls and Post-It notes with ideas for the next cool thing.
This time it has taken the shape of Gluten Free options. Seems like we have a bunch of members who are happy for the bakery items, but "hey, can you bring us some gluten free options too?" So no time to sit around patting ourselves on the back just yet, now we are on the gluten free trail. To begin with, we have added a tab on the web site to make it easy for the GF members to find what they are looking for. We have several items in there right now but will be making a big push to fill out that offering over the next few weeks.
With that said, I must pause and thank everyone for their honest and sincere thoughts they share with all of us on a weekly basis. It makes designing the offering so much easier. After I failed out of Mind Reading 101, I realized that it is so much easier to just ask people what they want rather than try and get too clever. I am a firm believer that we are not here to reinvent the wheel. Just tell us what you like and we will try and find a way to deliver it.
New product alert…Marinara Sauce. We began to bring you sauces (chile and BBQ) in an effort to make your cooking experience more fun and easier. Green and red chile sauce is not hard to make, but sometimes you just don't want to spend the time, so we crack a jar. We figured that it you are going to crack the jar, crack into something awesome. So we launched the sauces several months ago.
Here is where I have to be honest with you, I didn't think that it would be all that popular. I thoughts folks would try it, but that it would fizzle out in a month or so. Boy have I been proven wrong. Our members love the sauces and sales have been surprising me. Because of their demand, it was easy to look and see that have been missing one huge hole, a tomato based sauce.
I mean we sell pizza dough and cheese. We sell fresh pasta. We sell beef and sausage for making incredible meatballs. We sell eggplant. But we have not provided the missing link. And I am not talking about an 800 lb hairy guy called the missing link, but a yummy Marinara Sauce. So starting now, we have filled that spot. Being New Mexico we also realized that most pasta sauces are missing what most New Mexicans love, a little bite. So our sauce we have made with a kiss of ancho chile to help you remember that we are still in New Mexico Toto. Don't worry, I have sampled it on kids and it is not too spicy for our little farmers out there.
For those of you keeping score at home and connecting the dots, you will see a paint by numbers starting to take shape. The next-next cool thing that we will be bringing you is the birth of the meal kits. You see these a lot right now under various names and companies. My 2 pesos is that companies like Blue Apron will be a fad and bust because they have no authenticity or story to them. They are just a recipe in a ton of packaging that arrive at your door. Cute to do a couple of times, but doubt will be around to stand the test of time. But I have been known to be wrong. I thought Dancing with the Stars would be off the air in 3 weeks. Shows what I know.
But what I do know is I like the idea of these recipe kits, but just want to see them done right with super high quality foods. Look for these kits to start getting more attention on our site. With the click of a button, you will be able to add everything that you will need for pulled pork sandwiches, pizza night with the fam, or a slew of other ideas. We all are guilty of getting stuck in a rut of what we make in the kitchen. The receptive audience for my taco bar is wearing thin, for example. So we want to spice up the creative juices by giving all of us simple, quick, and good value meals that we can easily order with a click of a button.
Happy munching amigos,
Farmer Monte