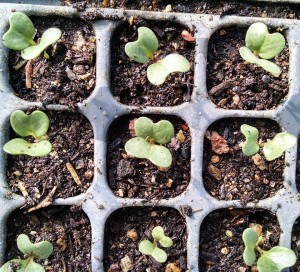 We probably all remember running around the playground, being chased, and then getting slapped on the back and hearing the words "Tag, You're It!" Every time you would hear that, you knew it was your turn to go find some kids. Well amigos, I want this newsletter to be my version of "Tag, you're it" and to have you help me go find some kids. Well, maybe not kids, but their parents, and coworkers, and friends, and family members. Let me explain.
Last week we made a huge move for our members in eliminating delivery fees and dropping the minimum order to only $25 for free delivery. But, as I wrote last week, this move only works if we increase orders and fill up our trucks. So I will not hold back or over exaggerate this when I say that we need you to help spread the word. This new no fee delivery model only works with your help.
I will be very honest and transparent with you (as I always am). Dropping delivery fees and lowering minimum order prices this week made our average order size drop by 9%. To offset that decrease, which we all knew would happen, we need to increase orders by at least 10%. And I know we can do it. Essentially, I took a huge gamble last week. I bet on our members. Why did I bet on our members over an arbitrary fee structure? Because I have bet on you all so many times in the past, and every single time our members have come through for us when we needed you.
So why should this time be different? It won't be. We have already seen some really good support from our members to step up this week, now I just need you to spread the word. Amazing food, free delivery, low $25 minimum order…what else do your friends need to hear before they sign up? A back rub?? I don't condone using back rubs to get people signed up, but use your best judgment.
OK, now on to some food thoughts. Bananas. Oh man where to start with bananas. Maybe to begin with is to let you know the demand for bananas is huge. Beyond huge. 40% of our orders this week had bananas added to them.
The second thing to know about bananas is that everyone in the produce world hates them. Why? Because they are the most finicky produce item you can find. You see the world eats one banana, the Cavendish. Think about all of the varieties of apples we enjoy, but the world eats and commercially cultivates only one variety of banana. It is insane. I have been on a bus through Panama in the heart of banana country and you the same looking banana mono-cropping for hundreds of miles. The word "diversification" does not exist in the banana world.
With that as our backdrop, we have found a small family grower in Mexico who grows non-Cavendish bananas. If you have traveled throughout many parts of the world, you get to experience (enjoy) the many non-commercial bananas. These are usually tree-ripened meaning that they never have that perfectly yellow color, free of spots. They each have character and they each actually get sweeter and more aromatic as they develop these "beauty marks."
So if you are looking for the standard commercial blemish-free bananas, Do Not order our bananas. We are going to be bringing you something different, something special that you can really only find on a bumpy bus ride along beautiful stretch of earth somewhere outside the monotony that we call a grocery store.
Last bit of housekeeping, sub options. There are times (that I hate) when we do not have the exact item to fill an order. Spinach doesn't hold up like we thought it would, etc. etc. When this happens, we run into a tough conundrum: to sub or not to sub? Is a tangerine just as satisfying as the orange you ordered? To some it is, for some not.
So we have worked with our web folks to get a solution. We are going to default everyone to "No Subs" for missing items. IF you want us to make appropriate substitutions for you, please go to "Account Options" then "Modify Personal Information" and under "Address" click the box that let's us know you are flexible for similar item subs. This will help us help you in a huge way.
Farmer Monte