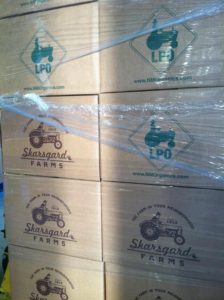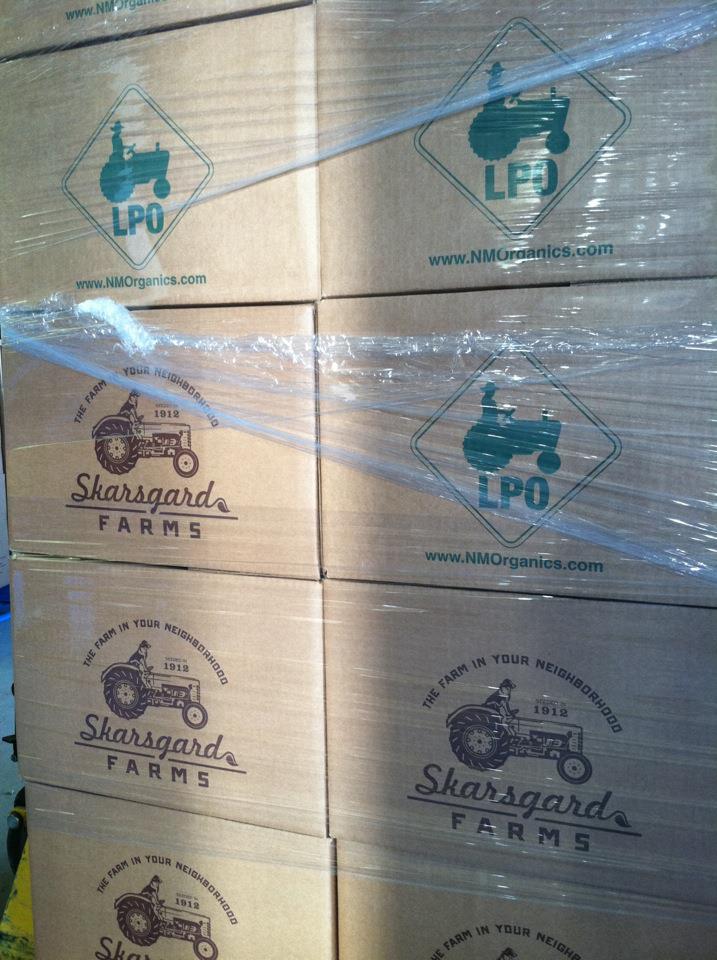 We have frozen roasted green chile in the Harvest Boxes as subs this week. It has a good kick to it so I didn't want to "force" it on anyone. But we will have it for a week or so (until it sells out)!
Gala apples this week too from Excelsior. Wow. Some of the best tasting apples you will find. They'll keep the Dr. away you know.
What's In the Harvest Box Next Week?
Recently, I read two articles that really caught my attention and made my mental gerbil get busy in his small cage.
First one pointed out that our country is on the verge, for the first time in our history, of spending more of our money on eating out rather than eating at home. The second article pointed out that grocery stores are in a competitive price slashing war right now and that grocery prices are the lowest they have been since the 1960's. The time of Peace & Love…and apparently inexpensive grocery bills.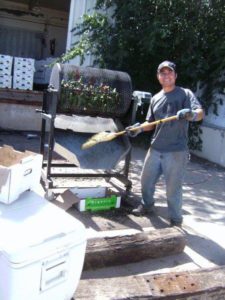 I have to say that I hated reading these articles; in the time of the least expensive grocery bills, our families are still eating out. Now I am not a purist and you will find me eating out too, but this trend is not good folks. Restaurants are in the business of making money and not making food healthy. Unfortunately, that usually comes in the form of added salt, sugar, calories and portion sizes. Let's just say that my love handles enjoy when I go out to eat.
Additionally, when we as a people are not involved with the harvest or the preparation of our food, we become naturally estranged from our food. There is no relationship with our food when we do not grow or cook our meals. And that shows up in our nation's health. Let's just say that I do not think that it is mere coincidence that obesity, diabetes, and health related diseases are following the same line as our country eating out more often.
So this led me to look at our farm and our offerings to see if there are things that we can tweak to make our service better for our members and to hopefully help all of us stay in our kitchens a little more. Eat a little healthier and to connect with our families and our food more. I am a firm believer that so many of our challenges both as individuals and as a society stem from our food choices.
So what the heck did I find out by putting our service under the microscope? First off, I realized that we have strayed from the uniqueness that I feel is the Harvest Boxes. This farm was founded on the idea of the Harvest Box giving our members a fun, educational, and special eating experience. Over the last several years, I have added all the items in the Harvest Box to our ala carte style of ordering. And because of that, we have seen an over 10% drop in Harvest Box orders from our members.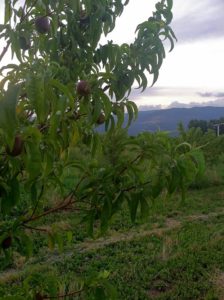 By itself that figure probably doesn't mean all that much. Folks are still eating healthy yummy food. But to me, the Harvest Box, even with all of its customization possibilities, is our roots to the CSA model that I love so much and believe in so strongly.
So to catalyze the revival of the CSA Harvest Boxes, you will see start to see financial incentives that make the Boxes a better value than buying ala carte. This is not to "punish" our ala carte shoppers. On the planning side of our operations, it is much easier for us to forecast demands when we have recurring Harvest Boxes on order. We also receive better "deals" when buying for Harvest Box volume so I want to pass that along to our members.
Lastly this week, I was looking at our cost of deliveries. As you can imagine, it costs us the same amount to deliver a $25 order as it does a $100 order. Van stops, driver leaps out like a super hero to bring you the freshness. The cost of that delivery is the exact same for small or large orders. But obviously larger orders are better for us financially.
So we added a large order incentive program that will look like this: Order $50 get 5% off your bill, Order $100 to get 10% knocked off your bill. We want to play a big role in your kitchen and your health. My hope is that we can do those while still being nice to your wallet too!
Farmer Monte