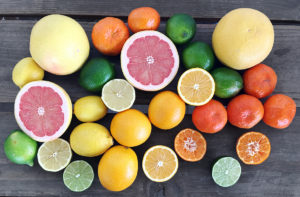 What a great kick off to 2017. I could not be happier with all of the fresh produce that we are seeing right now. This week will hit the low 70s pretty consistently on our Arizona farms. And for those of you who are like me and can speak to plants, you know that when temperatures are in the 70s plants are happy. That is when plants are in their "chill zone" (I made that term up so don't try and Google it).
But the chill zone is where life is good and not stressful. They do not need to spend a lot of energy or water trying to keep cool and there is no Jack Frost at night to beat the plants down. So in the 70s you will see the best growth from the majority of produce plants. Melons and eggplant like it hotter, but citrus, greens, and roots are very content. So we will highlight the happy produce this time of year. Enjoy.
A little tweak to the Harvest Boxes. Most things don't happen by accident, and we are making a few changes to the Harvest Boxes and I would like to share the reasoning with you.
I realized through my own shopping experience on our web site that I would like to see more diversity in the Harvest Boxes besides just produce. I love produce, eat the heck out of produce and grow the heck out of produce. But there are just some times in a man's life (and woman's life, too) where we need something besides produce to tie our lives together. For me, that means enjoying some high quality pasture-raised pork and beef that we have.
Seeing as how 85% of all our orders have a Harvest Box associated with them, that seems like the easiest way to have our members try out our natural meats. Therefore, we have added 3 types of pork and a grass-fed ground beef to the Harvest Boxes to help add diversity and help round out our healthy food offering. These meats will change with the harvest just as our produce does. So keep your eyeballs peeled for additional meats to our already awesome Harvest Boxes.
New Web Site. I know that I teased you before the holidays about a new web site that we are on the cusp of launching. Then a funny thing happened over the holidays…no one worked! So we got pushed back a couple of weeks but it is still on the way and will be here soon. You will love it.
Speaking of the new web site. I was having a mild brainstorm of things that we could add to the new web site and thought of a menu idea that I want to run past you and get some feedback. I am willing to bet that I am not alone when I stand in the kitchen after a long day and ask myself what the heck is for dinner. Maybe you give up and go out to eat or maybe you slap on that Blue Bird apron and get down to business. The fact of the matter is that menu planning after a long day stinks. Your brain is hitting the snooze button and you just don't feel like thinking all that much.
So the menu idea is called 5/20 Meals. Which is my street slang for meal planning using 5 (or less) ingredients and taking about 20 minutes to make. So last night I gave myself a challenge to write down as many menu ideas as I could come up with in 10 minutes. And since my kitchen timer was broken I had to use the trusted Norwegian kitchen timer that you may know as half a beer.
It was insane. I got like 15 recipe ideas down on paper in 10 minutes. Turns out there are 1,000s of recipes that can fall into this sandbox of 5 ingredients and 20 minutes. So feeling pretty proud of myself, my little gerbil had the follow-up thought– what if all of our members shared their best 5/20 recipe ideas using the food from our web site and we began to compile them on the web site to help families and folks out?
Oh man. The possibilities are endless. So here is what I am asking from you; help us design this meal planning to fit your needs, but within the framework of a handful of ingredients and quick prep times. This is an idea and concept that will work for our members. I honestly think that the over-saturated recipe kit to your door boom is about to fall on its face. So let's design a 2.0 model of that idea that makes sense and actually brings a service to our households. If you have some ideas, please email me at
Farmer Monte