August is just a great time of year to be eating the bounty of the season. There is so much diversity in August that it is hard to focus on favorites for me. But I will try!
The Dinner Bag for the Week
Week of 8/7:
SKRS Brats with Caramelized Onions and Roasted Potatoes with a Local Fresh Fruit Salad
Grilled Chicken Breast Salad with Local Peaches and Quinoa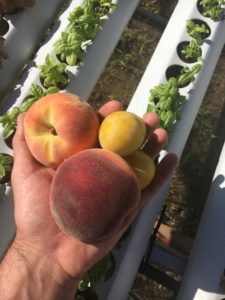 I have to say that my favorite weeks of the year are when Paul heads south from his Excelsior Orchards in Paonia, CO and brings us fruit. These are truly special weeks.
You see, because of our partnership with Paul, he does not have to grow fruit the way many other growers have to grow fruit. Answering questions like a) how long will this fruit sit on a grocery store shelf? b) is it visual appealing enough for a zombie in the produce section to buy it? and c) will the trees yield enough to make up for the terrible prices I get from the grocery stores?
All of those questions Paul does not have to worry about. He focuses on quality. Period. And this week is a great example of that.
Start of the peach harvest with the Blazingstar peaches. These guys ripened earlier than their neighbors so we just got 500 lbs to begin the season. These will go very fast, but we will have more coming in soon. Hopefully this next week.
But along with the peaches came my favorite plum in the world, the Shiro. The Shiro is a very interesting plum because they are not the most beautiful to look at honestly. They have a yellow/gold skin on them. And with that fair complexion comes sunburn spots (like most farmers) and signs of rubbing up against a tree branch. The dark skin plums have become so ubiquitous for one reason, ability to hide blemishes. So the Shiro is not grown commercially and is overlooked for varieties that can withstand a certain amount of abuse.
The other reason it is not grown commercially is that the sugar content is too high to store well. So our season on these plums is literally 2 weeks long. So do not blink or you will miss them.
Happy August amigos, Farmer Monte