So when I tell you that this week we have the most fruit that we have ever had from Excelsior Orchards, you better believe you are in for a treat. Paul has brought us Peaches, Plums, Nectarines, and Pears! We have honestly never had this much abundance from his trees in one week. What a fantastic way to celebrate Labor Day and all the hands that Labor to keep you and your family fed on a daily basis. Enjoy.
You will see two types of peaches this week. First is a New Haven. These guys are orange flesh, free-stone peach. Free-stone means that the Pit will not stick to the flesh. Perfect for pies, jams, or freezing. The second new face to the party are the Blushingstar peaches. White flesh, free-stone. You can make jams with these guys too, but I honestly just love eating these from my paw. Let the juices flow and get crazy.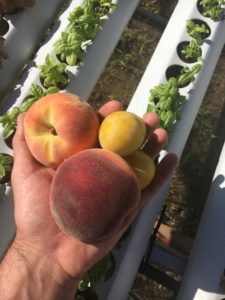 Pears. Bartlett. I have to tell you that I never really liked pears until I got to eat Excelsior pears. I grew up thinking that pears were just a crappy filler in a Hairy&David holiday box. Because of that, I never knew how yummy, wonderful and floral a pear could be. Let these pears turn from green to a light yellow. Then dive in. I love apples but there is a fragrant complexity of a good pear that apples just cannot match. We will have these pears for a couple months.
Redgold Nectarines. Just wow. These nectarines weave together sugary sweetness and crisp acid in a way that you cannot find in many fruits. I feel that fruit either does acid really well like a grapefruit, or sugar really well like a peach. But to enjoy the combination of the two in one fruit is truly unique. These dudes are free-stone as well. Truly incredible.
Finally, the Duarte plum. What a journey these are from the yellow skin, light flesh that we had with the Shiro plums. The Duarte is a dark skin, dark flesh plum that has been bathing all summer in the high elevation sunshine of Colorado. Not as overly sweet like the Shiro plums, but also some more subtle flavors like a fine wine. And a gorgeous amber juice. You will love these plums. Just like the Shiros, these plums have about a 2 week window to dive in. They will be gone before you know it. Do not hesitate with them. Eat with abandon!
Lastly this week, the announcement of our Harvest Festival. We have had such a beautiful year from the many fields we bring to you, that we would be remiss if we did not stop to celebrate such a stunning harvest. So September 22nd we will be hosting Festival at our new warehouse location.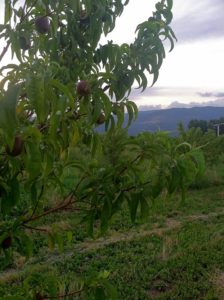 Our construction work will not be done by that point, but I would love to introduce you to the space that we will be moving into this fall. The address is 301 Stanford Dr SE. Please please please Note that the address is Stanford SE not NE like the address of our current warehouse. Our new market/warehouse is on the corner of Stanford and Lead in the University area and close to Frontier.
We will be out there from 10am-2pm showing off the new space. Additionally, we will have tons of Excelsior's apples and pears to stock up on. And we will be roasting Organic Hatch green chile that you can purchase by the pound or by the bushel. Totally up to you.
Please join us for this Festival and glimpse into what the new space will look like. We are excited to share it with you.
Happy Labor Day, Farmer Monte
Heirloom Tomato Basil Soup
Ingredients
3 pounds of heirloom tomatoes, washed and diced
3 cloves of garlic, peeled
½ of a medium onion
10 basil leaves
4 tablespoons of extra virgin olive oil
Salt and pepper to taste
Garnish
1 pt. Sun Gold cherry tomatoes
3 tablespoons of extra virgin olive oil
Sea salt and freshly ground pepper
10 basil leaves
Preheat oven to 375 degrees
Add all ingredients (garnish ingredients not included) to a large roasting pan. Cover tightly with foil. Roast for 1 hour, remove foil and let stand for 20 minutes.
Blend in blender (in small batches) until smooth. Pour blended soup in a large soup pan and place on low heat.
Garnish
Preheat oven to 400 degrees. Mix cherry tomatoes, olive oil and salt and pepper. Spread tomatoes over a roasting pan and bake for 5 minutes or until blistered.
Roughly chop basil leaves. In each bowl, add soup and an even amount of cherry tomatoes to each bowl. Sprinkle fresh chopped basil on top.