It probably comes as no shock to you that eating better is always one of the top new year's resolutions that people hope to achieve every new year. I get it too, the holidays are a tough time for even the most devout healthy muncher. So we start the year strong and usually by the time we celebrate the life of Dr. King, our "I have a dream" speech that we give ourselves at the beginning of the year has become "I had a dream." Resolutions over. Back to our old ways. So how the heck can we avoid this treadmill?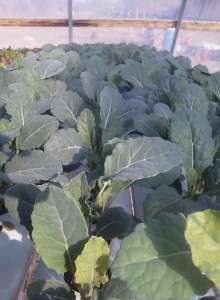 I believe that we are able to stick to resolutions in 2 pretty easy steps. The first is that we have to set realistic goals for ourselves. I'm not going to run the first marathon of my life this St. Patty's Day. And probably not going to have six-pack abs by Groundhog Day. So when we look at eating healthier, we have to realize that it is a commitment to changing or refining a lifestyle.
The food we eat is a choice. This may sound pretty self-evident but I think it needs to be thought of like this. For the first time in human history, we have to make food choices. What type of carrots do I want to buy? That question was not an issue for our grandparents throughout the Great Depression. "Do we have food to eat?" may have been the question rather than are the carrots Organic? We are fortunate to be at a point in history that we can make food choices. I honestly think it is a pretty big sign of development and making progress as a people.
So we need to be cognizant that our health and our lifestyle is comprised by the sum of our choices as an individual. To distill it down, we have to look at ourselves in the mirror and say "My lifestyle is my choice." I really like this idea as well because it cuts through all the excuses and leaves us with personal accountability and free will. Pretty simple.
With that under our belts we come upon the next stage of a successful resolution—fun! Is your resolution fun? Because having fun is one of the most sustainable emotions that we have as humans I think. Therefore, in order to make a resolution stick, make it fun and make it a choice.
Here is a great example of this sticking power. Last January, we got a flood of new members. The farm, like most gyms, is a very active place in January as resolutions are churning. We have been able to keep over half of the members who signed up last January. Sure we lost some resolution folks, but we have retained over half of them. And this retention has not happened by accident. We strive to make your food experience fun, educational, and rooted in your choice of substitutions. I am not here to force feed any of you. I want you to make the choice to eat healthy and then we will put the choices in front of you.
With all of this said, I want to share some cool stuff that we have been working on to help keep you on track this resolution season.
Fish. After much discussion and diving into logistical scenarios, I think we have a plan to add fish to our offering. This has proven to be harder than I thought it would be. Between country of origin, sustainable practices, farm vs wild caught, and prices, fish is no easy addition. So here is what we are looking at adding to the web site this week.
Shrimp, scallops, tilapia, tuna, sockeye salmon, and catfish. We have been working with Craig Risk and his team at Seattle Fish Company of NM to bring our members the highest quality fish while remaining very conscientious of sustainable practices. Craig is a member of the farm as well so it makes it easy for him to think like a member 🙂 Please let me know if you have any questions about this move.
Hydroponic. I do not think that we will see any colder temperatures than we have already seen hit our greenhouse trial and the verdict is pretty amazing. Green growth. We have over 10,000 plants in just 3,000 square feet and they are all growing wonderfully for this time of year. I would like to invite folks down to the South Valley farm next Saturday 1/10 at 10 am to check it out firsthand. We will be talking about the system along with looking at potential expansion of this project and its application for urban ag.
Cheers to a New Year, Farmer Monte