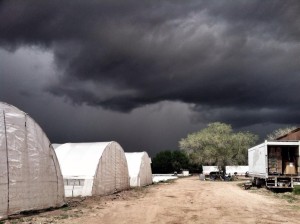 First off this fine summer day, a quick plug for our friends at New Day Family Services (http://www.ndnm.org). Every year they host an amazing concert to build awareness for their mission to help at-risk youth and to raise money for their programing. And every year we like to support them and to help advertise the show. This year they will be bringing Widespread Panic to Sandia Casino Amphitheater on Friday July 11th. Check their web site or Ticketmaster for tickets. It will be a great time I can assure you.
My second plug for the week is food related. Last week we launched our line of green chile sauce (hot & medium), red chile sauce (hot & medium), and a yummy BBQ chipotle sauce for the summer grilling season. All of them are now on the web site to add to your Harvest Box or buy through the shopping cart.
It dawned on me that being a New Mexican farm and food provider, we need to have consistent supplies of chile or we are just not doing our jobs. So these sauces will help supplement our members throughout the times of the year that we do not have frozen roasted chile from the farm. We did a lot of taste testing (tough job!) to find these recipes, I think you will really appreciate the flavors and quality of these sauces. Enjoy.
On the farm front, things are really picking up steam as the cool spring becomes our typical sunny warm days. Cucumbers are going crazy and will continue to provide a steady harvest for several weeks to come. Summer squash is a little behind our normal schedule but will be hitting the scene here soon as well.
We got hammered by a pretty serious hail storm this week and fortunately we did not sustain more damage than we did. The greenhouses literally saved our tomato crop this year. Hail hits a farm like a pair of scissors just shredding whatever it is in its path. Leaves or fruit will be ruined by the hail and cannot bounce back most of the time. Our last harvest of lettuce looked like it had been run through a paper shredder. So that will be it for our spring lettuces.
All things considered, we dodged a huge bullet and should have an abundant summer after we clean up the mess. Seeing freak flash storms like that always acts as a good reminder of the tenuous nature of farming. A 10 minute storm could wipe you out for the season and then miss your neighbor completely. This brings some serious respect for the power of Mother Nature.
Lastly this week are some notes about delivery days.
If you have been around the farm for more than a week you know that we love to throw spaghetti against the wall, see if it sticks, and then build our business plan around what makes sense for the long run. No focus groups around here. Launch ideas quickly, assess viability in real time.
Saturday delivery days have been around for about a year. The idea was good, but members are not taking advantage of this service enough to make it viable for us financially. So we will be phasing this out to hopefully a) stop losing money on those Saturday routes, and b) to increase the density of our weekday routes. Ultimately making the model more efficient financially and environmentally.
Our business is interesting in that regard—if we base our decisions on what is best for the environment, it usually makes more sense financially as well. Having more orders per delivery truck is better for Mother Nature and our bottom line. Sourcing from growers closer to home means less miles on the road and less money pumped into the gas tank. These are just 2 examples of the many we see.
So look for this Saturday change-up and I appreciate your understanding on the necessity of this change. All members west of the river can still choose to receive orders on Wednesday during the day or Monday nights. All members east of the river will have the options of Tuesday or Friday for delivery. So I feel good knowing that although the delivery day is changing, all of our members have plenty of convenient options to choose from.
Have a great weekend,
Farmer Monte