Recipe Idea: SKRS Farm's Grass-Fed Steak Salad with Melon Slices
We just received a fresh delivery of beef from our butcher. We are thankful for this animal that was born and raised in the South Valley, lived on pasture and never saw the confines of a feed lot (the way nature intended). I have highlighted this animal in our weekly seasonal recipe offering.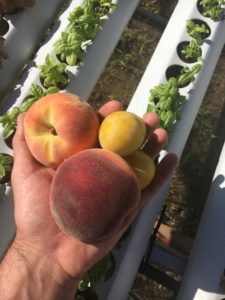 Also a great week for Peaches. So many yummy flavors to help celebrate the return of the school year.
The Dinner Bag Recipe Ideas
Week of August 14th
SKRS Farm's Grass-Fed Steak Salad with Melon Slices
Ingredients:
Grass-Fed Steak SKRS Farms Grape Tomatoes, Cucumber, and Melon Preferred Produce, Deming NM
Salad Mix Josie's Organics, CA
This was so good that I ate it back to back dinners this week
1. Fire up the grill to about 425 degrees. While that is heating up, season your steak with salt and pepper and some garlic powder, or however you like your steak. NOTE: Make sure to remove steak from the fridge for up to an hour before hitting the grill. Try and avoid cold steak hitting the grill and never cook a frozen steak.
2. When grill is hot (really as hot as you can get it), place steak on grill. Cover grill. You want the grill to sear the meat, but also act as an oven to help cook quickly. At 2.5 minutes, flip meat and recover grill. Cook for another 2.5 minutes then remove steak and let it rest for 10 minutes before cutting. At 2.5 minutes you will have a medium cooked steak. Cut time by 30 seconds a side for rarer; add 30 seconds for more well done. 2.5 minutes is my favorite with a hot pink center.
3. As steak rests, dice cukes and slice cherry toms in half. Reserve some toms for your taco night 
4. Throw salad mix into a big bowl and again reserve a little mix for taco recipe.
5. Toss all salad ingredients with some of the dressing pack (to taste), then slice steak on top
6. Serve with sliced cantaloupe and you are in business. I also like a squirt of lime on this salad.
SKRS Farm's Ground Beef Corn Tacos with Sautéed Zukes, Spinach & Onions
Ingredients:
Ground Beef SKRS Farms Corn Tortillas Mi Rancho, CA Lime Patagonia Orchards, AZ
Zucchini and Spinach Preferred Produce, Deming NM and Cilantro and Onions Veritable Vegetable, CA
Tacos for dinner?? So at least you know you are having a good start to the night.
1. Warm skillet over medium heat. Drizzle some olive oil. Sauté ground beef until perfecto. Remove.
2. While beef cooks, slice up your zucchini and onions. Put in a bowl and keep sliced spinach in a separate bowl. Chop up left over tomatoes and pull out the salad mix you left for tacos.
3. In the same skillet the beef cooked, sauté the onions and zucchini. When those are almost done, toss in the spinach leaves and mix together. Season to taste.
4. Here comes the meal maker… over an open flame on your range or hot skillet if you have electric, run the tortillas under water for a split second and then in batches, lay them directly on the flame or hot skillet. With forks or thongs, flip them over a few times just before they begin to smoke. This gives you a very authentic Mexican taco cart flavor to the meal.
5. Build your tacos and serve with zucchini mix on the side. Garnish with cilantro and wedges of lime.
Buen Provecho, Farmer Monte