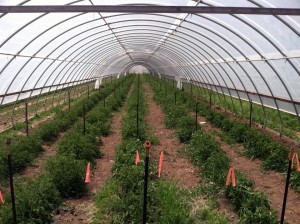 I did something that I usually never do. And before my guilt eats me alive, I want to share it with you and ask forgiveness…I went into a produce section at the grocery store. After a brief anxiety attack, I was able to do what I came for—price check our food.
I have to admit that I am pretty oblivious to what the "market price" is for produce these days. But recently I had some folks ask me how our Harvest Boxes compare in price to the grocery store. Instinctively I always say "we're very competitive," but then I felt the need to fact check myself before someone calls me on it and I end up looking like a burro. So armed with a piece of paper and the calculator on my phone, I dove into the produce section. For ease of numbers I just dissected the Medium Harvest Box, 12 items, $36, all Organically grown.
First note was that I could only get 9 of the 12 items to be Organically sourced and none of the 12 were locally grown compared to our's all Organic and 3 locally grown. The total tab at the register would have been $40. Honestly I was hoping for more than a 10% savings, but then the light went off in my Norwegian noggin– that 10% savings did not take into account that we deliver to your doorstep. Furthermore, with us, you can shop in your underwear which has got to bring some value too doesn't it??
So at the conclusion of my comparison shopping, I felt very good about the numbers. If we can save you money, save you time going to the store, bring you locally grown items, and run a socially responsible business model, then I think we are doing a good job. But just like report cards in school, it is good to stop and evaluate things every now and again. And this report card I am happy to show my mom.
But the numbers only tell a part of the story I think. The interesting thing to me is what lies behind the numbers though. As the Notorious B.I.G. reminds us all "This situation ain't accidental." So how in the world is a small farm able to compete (and beat) the prices of larger retailers who have an obvious size advantage?
The answer is pretty darn simple and it is what we looked at in last week's newsletter—partnerships. Direct partnerships cut out the middlemen and get food to your mouth fresher and less expensively than any retailer is able to offer. Even the big retailers are swimming in a matrix of middlemen. Products changing hands and warehouses so many times it will make a head of broccoli dizzy. Direct partnerships are the only way to go to outfox the box stores. I know I beat this drum a ton, but it cannot be overemphasized. It is the future of small scale food.
On this note, I want to let you know about a great move that we just launched this week too. We have finally cracked the logistical code to begin home delivery in the Las Cruces area. I know many of our members are saying, "Sheesh, it's about darn time Farmer M." And they are right. This move has been long overdue but nonetheless, better late than never. So this Wednesday, 5/20, will be the maiden voyage of our delivery trucks in the land of milk and honey, or maybe it was milk and Aggies??
This new service for the LC comes on the heels of a very successful home delivery launch that we have seen in El Paso. Both of these communities have been asking for this service for many moons and I for one am happy to see it come to fruition. I am not like Nancy Reagan when it comes to fresh local foods, we like to "Just say Yes!"
But the distribution is a tip of the iceberg for us. This is not just a move to increase sales. It is a chance for us to work with local growers to bring their food to a larger statewide group of foodies. I had a great conversation with Jay Hill in Las Cruces this week about getting him on board to grow for our CSA and to transition fields away from conventional growing into Organic practices. Many growers want to grow Organically, but just want to know who will buy their food. We/you help bridge this gap.
To truly change the local food system, we have to address both consumers and suppliers. This is not a one-sided issue we tackle. Farmers and communities must move together.
Farmer Monte