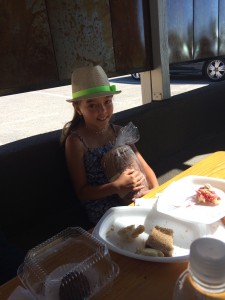 You think sampling breads and pastries is easy?? Well it's hard work, but someone has got to do it!
So last week I promised some big news this week. And since I am not one to cry wolf, I will lay it out for you. This will be the biggest thing since sliced bread. Oh, but wait a second, the news is sliced bread. Do I have your attention yet? Good, so let's set the stage here.
The modern day grocery store has all but killed the artisan bakery. In the produce world we talk about food in terms of days. Not very forgiving. But in the bakery realm, you hear the food talked about in terms of hours. Or at least you should. But with freezers and additives, most bakeries have bought themselves "shelf life." Today, breads are not looked at in terms of a can of beans, but they are pretty close. And you know what, we have paid the price with the quality that most grocery stores try and sell us.
So this summer, the fam and I visited Durango and went into a small bakery. I have forgotten the name but not forgotten the quality of the goods. I left that bakery with a clear vision for the next food revolution brought to you by the farm. I knew we needed to revamp our bakery section. We need to bring you something special.
You see, I fixate on one question the majority of my working and waking hours– how can we give you an authentic and memorable experience with your food? I know that may sound cheesy but it is the truth. When you think about our David against Goliath business model, the difference between perseverance and closing up the farm boils down to bringing you something special.
There are bigger and more diverse places to buy food with huge advertising budgets to lure you in through their doors. For most of us, where we buy food is not a necessity any more. We have plenty of choices. In my grandfather's small town of Makoti, North Dakota (population 125) there were no options. One market fed the town. Again, for most of us, those days are over. We are inundated with choices.
And so to remain relevant (and alive) in this consolidated food industry, we have to bring you something different. Something special. We have to make this Special a part of your lifestyle and a part of your daily routine. So trying to figure out what this Special looks like consumes my life.
With that, beginning right now we are completely changing our bakery section. We have invested and partnered with a local bakery and are going to dismantle the status quo and do breads the way they are meant to be done. So you are saying, "That sounds cute Farmer M, but what the heck does that mean?"
Well, it means two things. First, I have realized the limitation of our baked goods and we will be expanding the bakery offerings. We will be immediately adding French baguettes, dinner rolls, hamburger/sandwich buns, European style pastries, stuffed croissants, pretzel rolls and yes, even cinnamon bread for your french toast breakfast.
Second, all of these goodies will have one thing in common—they will not be baked unless you order them. So at your 10am cut-off time, we will collect all bread orders and send them to the bakery. The bakers come in at 9pm and bake all of your orders overnight. Then at 8:30am, the bread jumps on a delivery truck and heads to your home or office along with the rest of your order.
The beauty of this new system is in the simplicity. In a grocery store, the bakery has to fill the shelves to give the sense of abundance. No one wants to buy the last loaf. But this system creates waste and the bakery has to eat (literally) any bread the store does not sell. The grocery store is just a consignment shop for the bakery, there are no guaranteed sales. This model is not good for the bakery or the consumer. So say good bye to day-old bread model and hola to the way breads should be, fresh.
Finally on this wonderful fall week, flowers. We have teamed up with a local florist to bring a splash of color to your orders. We will have a rotating selection of a Bouquet of the Week. Always gorgeous, always fresh. Add these to your orders beginning now as well.
Much to celebrate!
Farmer Monte