Peaches & Cream Overnight Oats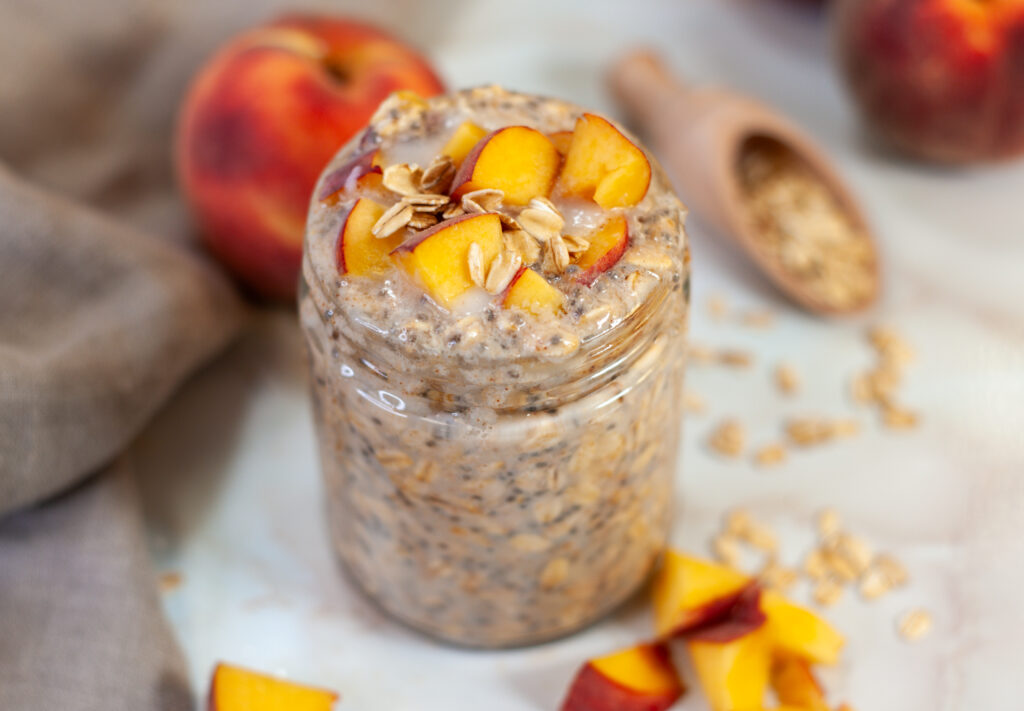 Ingredients
3/4 cup almond milk
1/2 tsp vanilla extract
1 Tbsp almond butter
1-1 ½ Tbsp maple syrup
1 dash sea salt
1 Tbsp chia seeds
1/2 cup rolled oats
1/4 cup diced Excelsior Orchards peaches
2 Tbsp coconut yogurt (any thick yogurt will do)
FOR SERVING optional
Extra peaches
Granola
Chopped almonds
Coconut sugar
Directions
In a jar (wide-mouth is best) or small bowl with a lid, add milk, vanilla, nut butter, maple syrup, salt, and chia seeds. Stir to combine. Leaving some bigger blobs of nut butter will add a nice textural component.
Add oats and diced peaches. Stir well, slightly mashing the peaches. Dollop the coconut yogurt on top and swirl into the oats. Leave some big clumps — again, they're delicious the next day! Secure with a lid and place in the fridge for at least 6 hours or overnight.
The next day, add your preferred toppings (we like more peaches, granola, chopped almonds, or coconut sugar). Enjoy!
OPTIONAL: If you prefer warm oats, you can heat your oats in the microwave for 45-60 seconds (just ensure there's enough room at the top of your jar to allow for expansion and prevent overflow, and that it's a microwave-safe container), or transfer oats to a saucepan and heat over medium heat until warmed through. Add more liquid as needed if oats get too thick/dry.