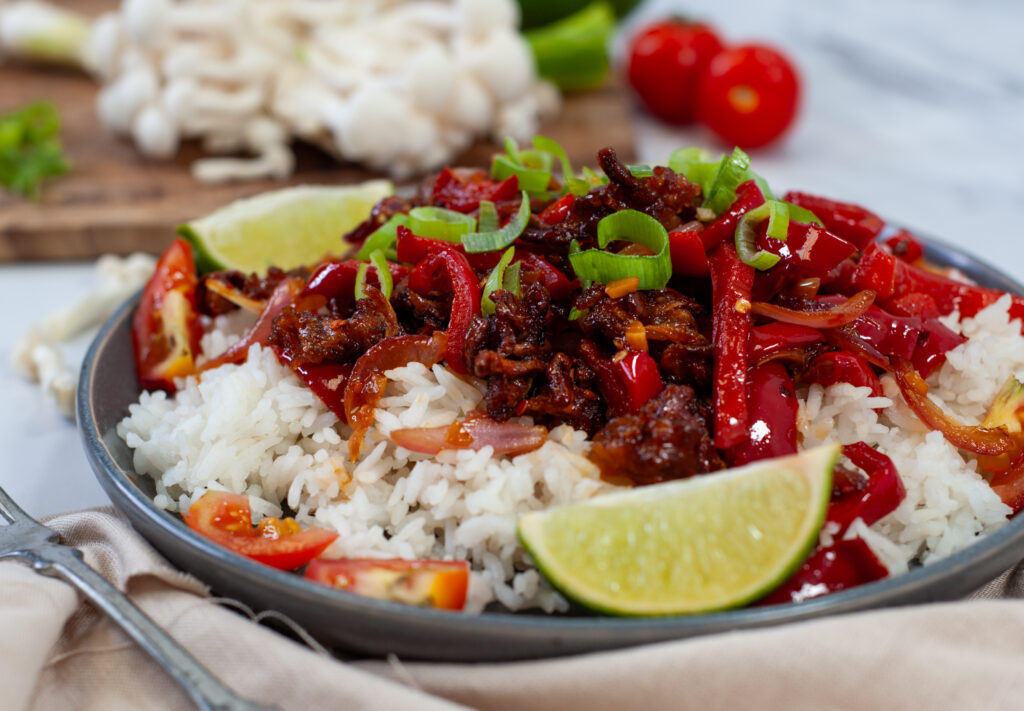 These Crispy Mushroom Stir-Fry meals are perfection! So much flavor, the best homemade vegan stir fry sauce and plenty of veggies to fill you up!
Ingredients:
FOR THE SAUCE
2 tablespoons soy sauce
1 tablespoons rice vinegar
1 tablespoon honey (or maple syrup for a vegan option)
FOR THE MUSHROOMS
6 ounces of mushrooms (such as Bunapi or Shimeji), sliced
1 tablespoon soy sauce
1 tablespoon cornstarch
neutral oil (for frying)
FOR THE BOWLS
1 tablespoon sesame oil
1 red onion, sliced or 2 shallots
4 cloves of garlic, diced
2 red bell peppers, sliced
Cooked rice (of your choice)
Green onions, sliced (for garnish)
Tomato wedges (for garnish)
Lime wedges (for garnish)
Instructions:
In a small bowl, whisk together the soy sauce, rice vinegar, and honey (or maple syrup) until well combined. Set aside.
Add the mushrooms to a seperate bowl and drizzle with soy sauce. Add the cornstarch and toss to coat evenly.
Heat the neutral oil in a large skillet or wok over medium-high heat.
Add the mushroomsand spread into an even layer. Let the mushrooms sit undisturbed until browned on the bottom (approx. 3-5 minutes). Flip and allow the other side to brown. Remove from the pan.
Place the empty pan back on the stove over medium heat. Add the sesame oil, onion, garlic, and bell peppers. Cook, stirring frequently, until the veggies become slightly tender (approx. 3-5 minutes).
Pour the sauce mixture over the vegetables in the skillet and stir well to coat everything evenly. Allow it to get bubbly. Add the mushrooms back to the pan and toss to coat.
Remove from heat.
Serve the crispy mushroom stir-fry over cooked rice.
Garnish with sliced green onions, tomato wedges, and lime wedges for an extra burst of flavor.
Enjoy your homemade Crispy Mushroom Stir-Fry!
Feel free to adjust the ingredients and quantities according to your taste preferences. You can also add other vegetables such as serrano peppers or protein sources to make it a heartier dish.