We are having a great month around here so far. Here is a quick brain dump for mid-July. Our Organic Juice Bar is back in full-tilt this week. The demand for our fresh juices has been so intense, that we broke our cold-pressed juicer. We are back squeezing right now though.
Few notes that are worth mentioning with our Juice program. We only (ever) use Organic products to juice. When you juice fruits and veggies, all of the nutrients and vitamins are concentrated into the juice. Which is obviously a great thing. But if you drink juice from non-Organic produce, you also concentrate all of the herbicides and pesticides that were used in the farming practices. So do yourself a huge favor and only drink Organic juices. Your body will thank you.
Secondly, our Juices are not pasteurized. This keeps all of the fresh vitamins and minerals intact. And maybe even more importantly, the flavor is garden fresh. Pasteurization alters the flavor, there is no denying that.
New Faces in our Juice Bar. Cocktail Mixers! For those of you keeping score at home, you know that the state of New Mexico passed a huge bill this year that allows home delivery of alcohol and food. I could not be happier about this.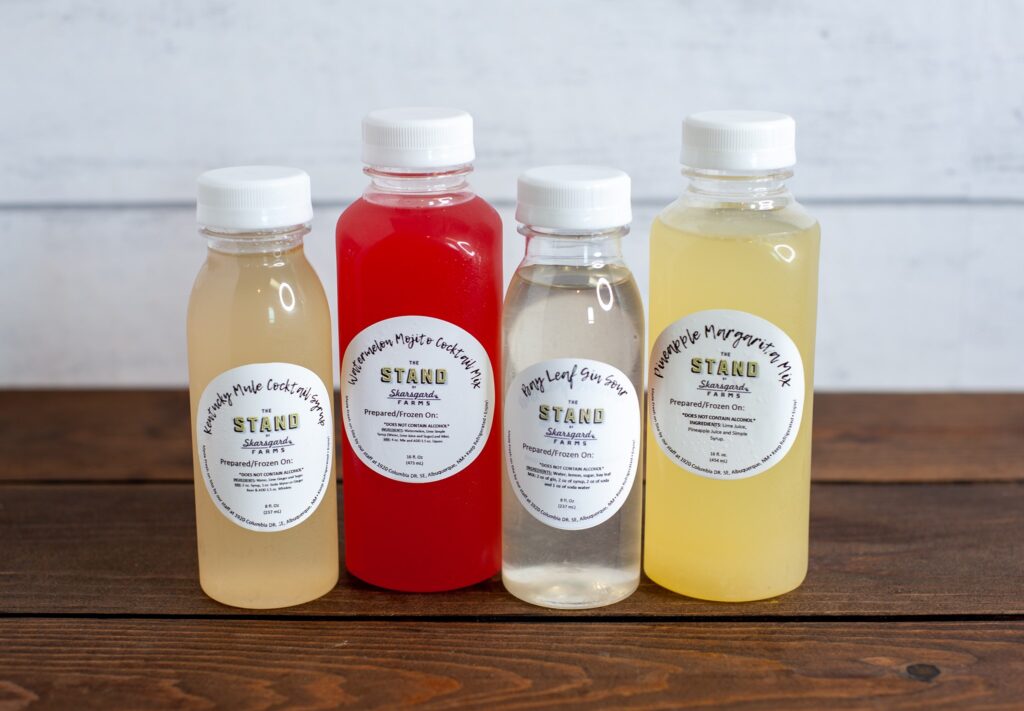 Personally, I enjoy alcohol. But I absolutely hate Drinking and Driving. My brother, Jason, and I almost left this rock when we were involved in a car accident where the driver had been drinking. So it is near and dear to my heart to keep drunk drivers off the road. I feel like home delivery will help in this effort.
Additionally, there are some incredible flavors of beverages that pair so well with food. So we are launching 4 great new mixers this week. Crafted in our juice bar, that pair well with the alcohol of your choice…Or add them to soda water to make a fun Mocktail that is alcohol-free for kids or adults. Feel free to sip on these with your Pinkies out. You'll still feel all classy eh.
To complete the overall vision, someday in the near future, you will be able to add Organically crafted Mixed Cocktails to your SKRS order. But for now, we will have fun working on the mixers and you can add whatever you feel like to them at your casa. Your feedback would be appreciated as we fine-tune the offerings.
Tangerines are back from our buddies in San Diego, Stehly Farms. The variety is called Golden Nugget and they are super yummy. Keep an eye out for those.
Losing the COVID-19. I am sure that I am not the only one who has put on a few lbs over the lockdown. Some comfort eating probably kept my sanity over the last 15 months. But I also noticed that our website was looking a little chubby too. So we are putting our website on a diet in hopes that it will be easier for you to use.
Quick math is that the top 50% of our products account for 89% of our sales. Therefore, we will be phasing out a lot of low demand items in exchange for weekly specials. I want to see items in high demand, or get the heck out of our store. Too many items make packing harder for our crew and the website less friendly for you.
The final vision for this is to have Kitchen Staples, more Weekly Specials, and then the Necessities like dish soap. If we can curate this properly (which we will) then you should feel showered with all you need to have a fantastic food journey, and more efficient for us.
Happy grazing, Farmer Monte
Meal Kit Highlight from Chef Jules: Smoked Pork Belly Tacos with Housemade Pineapple Salsa
Local Pork Belly from Robert Kyzer. Smoked for 8 hours with Applewood chips from Excelsior Orchards. Housemade Pineapple Salsa. SKRS Pickled Peppers and Onions. Cotija and Cilantro. Insane folks. Don't miss this one.